In memory of Carlo
Sunday, 16th of June 2019
We got some very sad news today. Carlo was adopted from Chihuahua Rescue Victoria in December 2007 when he was 3 years old. He was fifteen years old when passed away.
Little Carlo has passed away. I adopted him from Chihuahua Rescue Victoria in 2007. He was famous for his soccer skills, super happy attitude and big smiles all year round - along with his forever wagging tail.

He was my best friend and a great mate to me and the other dogs in our family! Sadly his last days came this week when he could no longer breathe properly with congestive heart failure. He will be missed terribly and was loved so much.

Pictured here is Carlo (left) and his best mate PupPup.
Say goodbye to Carlo on this Facebook memorial post.
Carlo's mother has kept in touch with Chihuahua Rescue Victoria over the years, and it was so sad to hear what had happened.
Here are a couple of pictures of Carlo, including the good one of him out the front in the garden before!

He had lots of fun with the other dogs and life was very busy.
Carlo and PupPup have come to stay with Chihuahua Rescue once or twice before.
Thank you so much Rita, as I said last year, I haven't been on holidays for about 7 years, because I never felt comfortable leaving them with anyone, until I made enquiries with you. I have been telling PupPup that "you are going to see Rita" and her ears prick up, because she knows what's happening. Last holiday, when I packed my suitcase, she sat in it and this year, I got them from the garage and she knows we are going off somewhere. When I say Rita and Mayer, she looks at me with a certain look, so she probably understands that she is on a holiday also!
Here is what we wrote back to Carlo's Mum that time.
Pup pup took a couple of days to come around but is allowing me to pick her up now. Carlo has been a cuddle pot all the way through. So far he has not seemed to worry about the heat, not that we have had much heat yet.

They are both eating and seem quite happy. Pup Pup has discovered she can fit under the dogs' trampoline so if she is scared (lawnmower lady this morning) she scuttles under the bed!
Our deepest sympathy and love to Carlo's Family and thank you for loving him so much!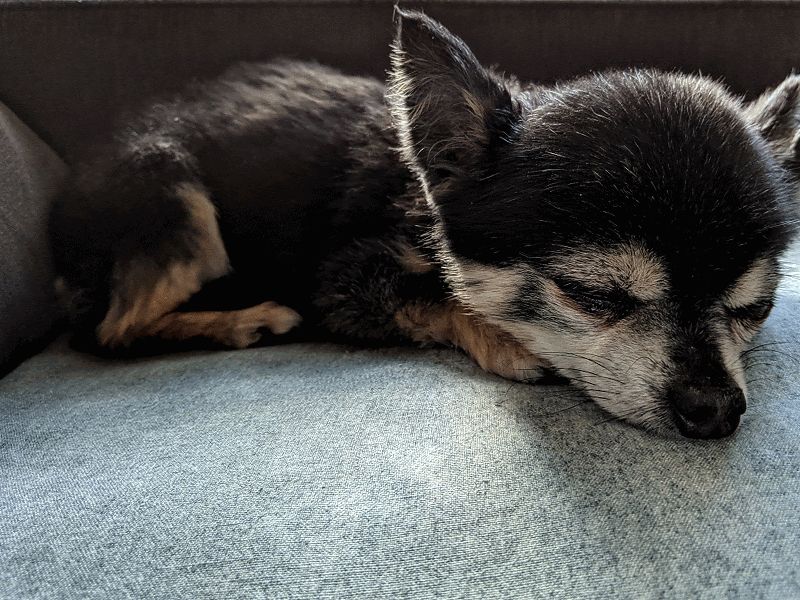 Chihuahua Rescue Victoria is a non-profit organisation. The advertisement below supports us directly.